A Basic Degree in B.Com, with Bombay University
M.Com, with Sardar Patel University
B.Ed, with Devi Ahalya Vishwa Vidhyalaya School of Education
B.Ed, with Hindi Sahitya Samelan, Allahabad
B.P.Ed., with Nagpur University
Total Experience
Incharge Supervisor of Compouter Dept. Shreyasa Vidhyalaya from 1.07.1986 to 31.05.1998
Asstt. Teacher, Silver oak School from 1.06.1998 to 30.10.2003
Principal of Silver Oak School from 1.11.2003 to 3.03.2003
Principal Shreyas Vidhyalaya English Medium from 4.06.2006 to till continue….
Message from Principal
"Hari OM"
Thank you for visiting the Shreyas Vidyalaya website.
The role of a school is not only to impart knowledge but also to develop qualities of a good citizenship, as well as to help students in developing mental & spiritual strength.
Besides academics, it is our continuous effort to have all kinds of activities in an academic year which motivates and encourages students through out the year & shape up their all-round personality.
The school follows the policies which are very transparent. We interact frequently with the parents through P.T.A meetings of work on the queries or problems if any, regarding the development of their ward.
I would like to acknowledge the hard work of efforts put by all the staff members in achieving our goals.
In the end I would like to express my sincere gratitude to our managing secretary Shri Pankaj Jani Sir of Shree Shreyas education trust, for being a constant source of inspiration.
Last but not the least; I would like to thank the parents of our students for having faith of trust in us of hope for the same in coming years after years.
Strong will power can work miracles. So work with full dedication, determination and sincerity. Have confidence in what you do of above all have faith in God to achieve all the glory & success.
Wishing you all the best!
Honours, Awards and Fellowships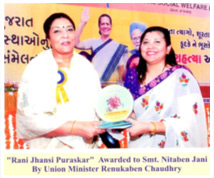 "Rani Jhansi Puraskar" award given by Union Minister Renukaben Chaudhry.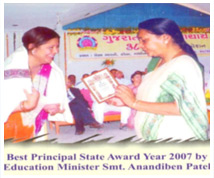 Education Minister Smt. Anandiben Patel,
given 'Best Principal Award'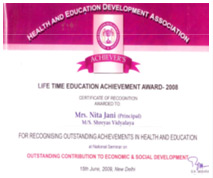 "Life Time Achievement Award" given by Health Education and Development Association.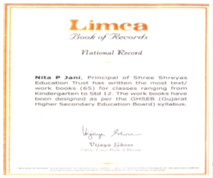 She has got achievement for placing her name in Limca Books Of Records
Publication
Computer Section material developed, in accordence with GSEB curriculam;
Kindergarden
Primary Section
Secondary Section
Higher Secondary Section